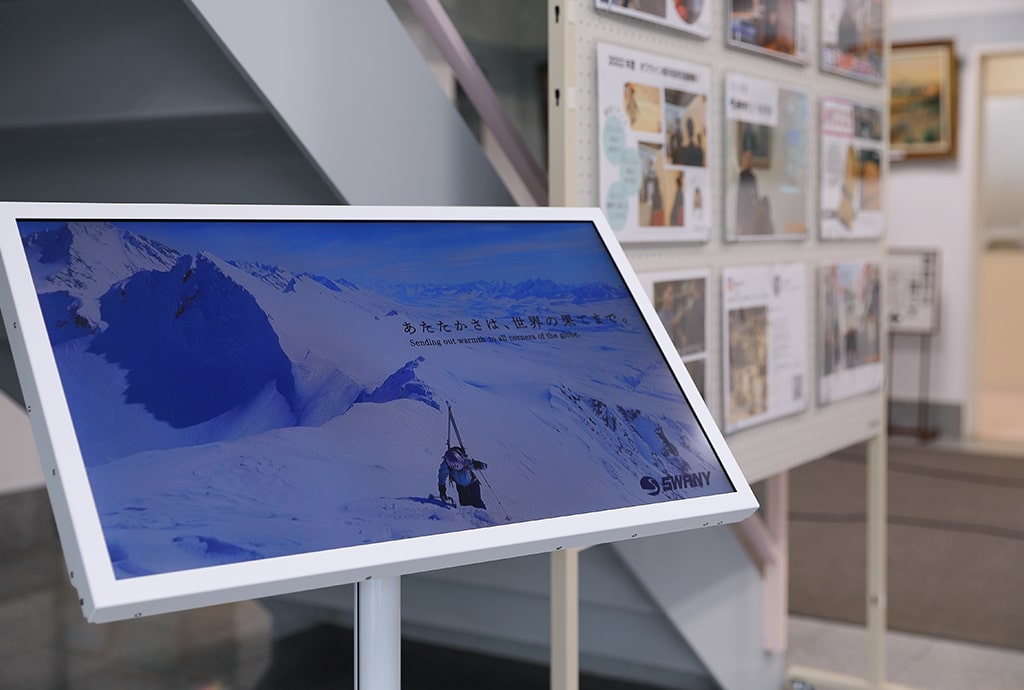 Philosophy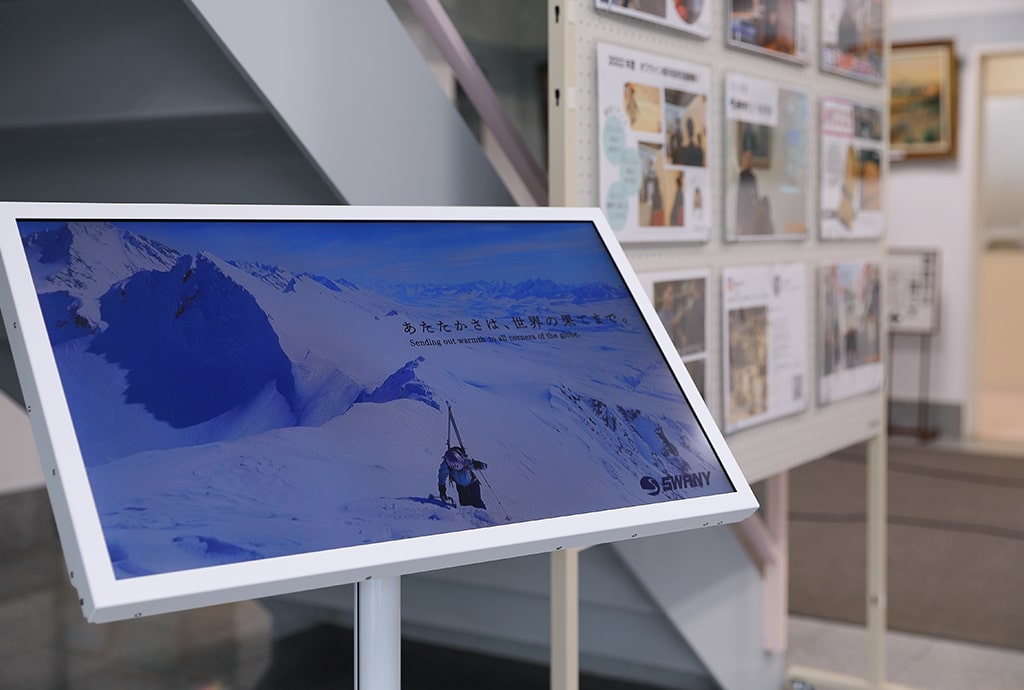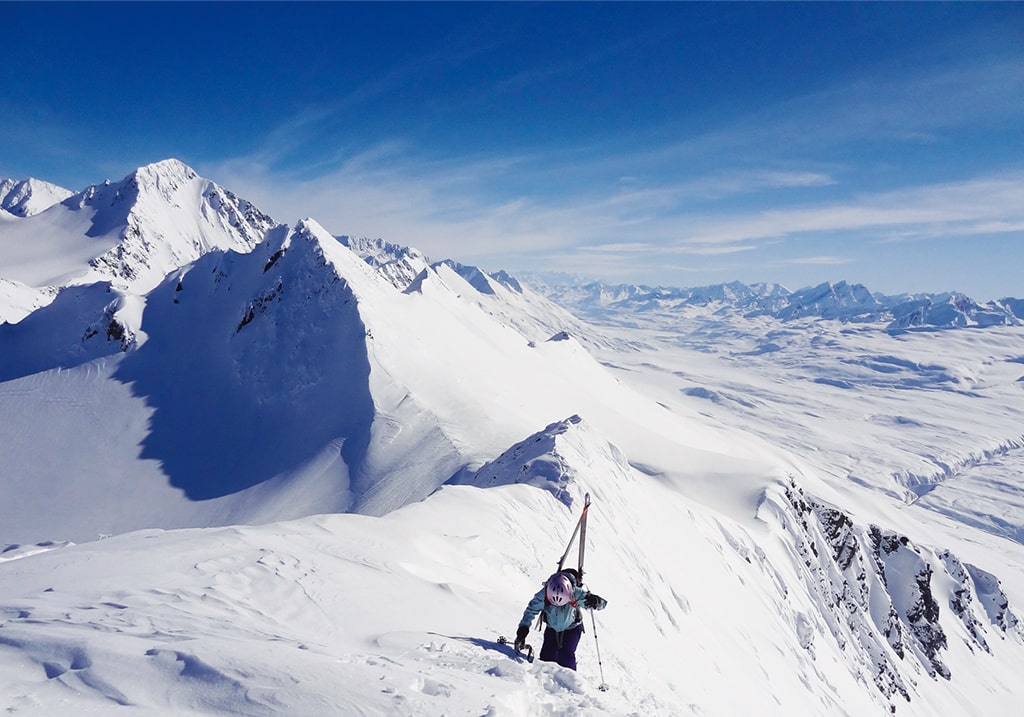 Let's warm
The world
Together
Let's warm
The world
Together
SWANY was born in Shiratori, a local industrial area in Kagawa Prefecture known for glove manufacturing.
SWANY began as a company that provided cutting for cold-weather gloves. From the 1960s, SWANY began proactively developing overseas markets, particularly in North America and Europe. Today, our technological capabilities cultivated over our many years as a dedicated glove manufacturer help us support top athletes around the world.

SWANY operations do not end with providing high-quality, pleasant gloves.
We have developed a wide range of products developed in kindness for all, including a support bag that eases the fatigue of walking and one of the world's most compact wheelchairs boasting functionality and comfort.

"Your perfectly-fitting gloves helped me win a medal."
"Your reliable bag has made my walks so enjoyable."
"Your maneuverable wheelchair is so convenient it has made movement much easier."

We receive some 8,000 letters of appreciation. Every time we view these letters, we are reminded of the warmth we provide through our products.

SWANY will continue contributing to human innovation and advancement by using proprietary technology and knowledge to provide happiness and inspiration to people all over the world.

We want to provide this warmth to people all over the world.
Company Credo
For self

Achieving profits and prosperity for our employees and their families.

For society

We will continue to respond to the expectations of our customers, business partners, and shareholders, and continue to contribute to society.

For the world

Using proprietary technology and knowledge to contribute to human innovation and advancement.
Credo
Energetic greetings

We practice energetic greetings to promote a company full of smiles.

Gratitude

We always express "thank you" verbally.

Humility

We embrace the humility of our beginnings and act with confidence.

Challenge

We continuously challenge ourselves to achieve new growth.

Team work

We respect, value, and cooperate with our fellow team members.

Open innovation

We strive for a stimulating company that promotes the free sharing of ideas.

Manufacturing

We create products that are loved to provide joy and inspiration.

Global

We look beyond our borders and walk hand-in-hand with our global partners.

Genuine

We respect the opinions of those around us and act with genuine intentions.

Reform

We identify new possibilities to achieve continuous reform.
Swany's Charter
Customer satisfaction

We will provide customers inspiration and happiness, and provide only safe and high-quality products.

Fairness and justice

We adhere to the law and engage in fair and free competition.

Information disclosure

We provide appropriate information disclosure to employees, shareholders, and stakeholders.

Open innovation

We provide a work environment that promotes autonomy and creativity.

Environmental conservation

We are environmentally conscious and work towards resource conservation and efficient use.

Social contributions

We proactively engage in local society and industrial activities.

Respect for human rights

We do not discriminate on the basis of race, ethnicity, nationality, religion, creed, gender, social status, age, or disability.

International business

We respect local laws and promote business activities with a respect for local cultures and customs.
Warmth can change the world.

"I would not have been able to run without these gloves."
These are the words in a letter sent to us from one of Japan's best marathon runners. The athlete sent us a picture of them smiling while running. SWANY gloves provided the strength to complete the 41.195 kilometers during the coldest weather. Protecting the hands and warming the hearts of athletes. People are supported by this warmth and are given the power to keep going.
"A bag that keeps people warm"
A customer struggling with complications from childhood paralysis consulted us looking for something to ease the fatigue involved in carrying heavy objects. That was the inspiration behind the development of SWANYBAG. A certain entertainer with a leg disability visited us while being supported by our bag. The elderly gentleman had a warm smile and the flush color of an entertainer. He conveyed that the bag not only helped him walk, it also supported his work as an entertainer and his private life.

The history of SWANY began with gloves and has expanded to where we are now known around the world as a maker of carry bags. In the more than 80 years since our founding, we have expanded from a local region known for gloves to operating in regions and countries around the world. Today, we have grown into a global company that conducts planning in Japan, production in Asia, and sales around the world. Lately, when we ask ourselves, "What do we make?", we have become more aware that we doing is making warmth for the world. We receive feedback from those who use our products. "Your gloves helped me finish a race." "Helped me win a medal." "Your bags have changed my life." SWANY believes that we provide warmth though our manufacturing. We work to increase our sensitivity to our surroundings and provide warmth to the world. For self, for society, for the world.
Tsukasa Itano
President and representative director
Q&A
Hoping for warming encounters
Being able to concretely visualize our users enables us to connect with our customers and build positive relationships. We hope to establish heart-felt connections between customers and our employees. Let's begin with a Q&A with our CEO.
Q

What is your personal motto?

My motto is "Value the relationships you already have", which is taken from a book by Shinran called the "Lamentations of Divergences".
This means helping to bring happiness to people with whom you have relationships, and the spirit of helping to make those who are close to you happy while at the same time putting your own self first.

Q

Are there any new challenges you are hoping to take on?

I would like to further expand our business in Europe and Asia.

Q

Are there any rules or routines that you impose on yourself?

Study English little by little every day.

Q

What is it that you, as president, are conscious about doing or that you consider important?

Valuing my own self. It is only by valuing oneself that we can value others.

Q

Is there anyone you respect highly?

Konosuke Matsushita and Etsuo Miyoshi (Swany Corporation's senior advisor)

Q

What were you like as a child?

I was a free-spirited child. I played outside a lot, and I don't think I studied very much.

Q

Is there anything that you feel has changed since becoming president?

I don't think anything about me has changed, but I think the way people react to me has changed since I became president.

Q

How did you feel when first joining the company?

I joined the company when I was 30. At the time, I felt extremely conflicted. I worked hard but I felt troubled about the fact that I was the son-in-law of the president.

My hobbies are activities that involve getting my body moving: Karate, weight training, mountain climbing, and marathons (I begin training for marathons after registering for each race).

Q

Do you have any special skills?

Making funny faces….

Q

How do you relieve stress?

Q

How would you describe yourself in one sentence?

I'm a person with ideas and energy.

Q

Is there anything you are afraid of?

Pointed criticism from the senior advisor, and from my wife.

Q

Of the countries or regions that you have visited, are there any that you particularly like or would like to visit again?

Dubai.

Q

When are you best able to relax?

When I'm having a bath and just let my mind drift.

Q

Is there anything that troubles personally you these days?

Q

You are always dressed smartly. What aspects of fashion do you place emphasis on?

The kinds of pants I wear.
For me, fashion is all about my pants.

Q

What kind of company do you think Swany is?

A passionate, teamwork-based company.

Q

What are you most proud of as president of Swany?

The company culture. The lack of internal divisions, the spirit of taking on challenges, and teamwork, are all unseen strengths of ours.

Q

What kind of company do you want to Swany to be?

A good company. By "good company", I mean one in which employees are enthusiastic about their work and one that is able to sustain a robust level of profitability.

Q

What do Swany's employees mean to you?

They are like family members, and at the same time they are also like friendly rivals who motivate me to always do better.