In-house innovations enabling staff to remain sincerely focused on their work.
We have reformed working styles to enable all staff members to feel enthusiastic about their work. The company's entire workforce united together to deliver warmth to the world, while acknowledging that it is diversity of points of view and values that underpin our products and services.
Advanced 5S initiative

A 5S Committee has been established to carry out monitoring of 5S activities (Sort, Set in Order, Cleaning, Cleanliness, Good manner) on a weekly basis. A 5S competition is also held with the aim of sustaining the advanced 5S initiative by assessing, acknowledging, and enhancing 5S-related activities.
Arigato Cards

As part of efforts to promote the company credo* to our workforce, we are aiming for a company culture in which employees recognize each other's strengths and help each other to enhance the quality of their work. Our Arigato Cards are publicly displayed in the entrance lobby.
*Credo is a Latin word meaning a statement of beliefs, aims, or promises. Our credo is the bedrock of our corporate activities and is a tool that explicitly and concisely expresses our values and code of conduct.
Weekly morning ethics meetings

Once a week, employees are split into three groups to make presentations and engage in discussions on topics such as the company credo, mission statement, and the Swany charter. We aim to utilize the learning-oriented culture of the company to provide each staff member with opportunities to grow and develop.
Childcare leave

100% of those employees who wish to are able to take not only childcare leave but also take advantage of reduced working hours for the purpose of caring for children. Those who wish to are also able to engage in shortened hours of work at home during the course of their childcare leave.
Refreshment leave

Employees are able to take refreshment leave for a maximum of five consecutive working days as part of their paid annual leave. In order to help employees to enjoy a fulfilling break, employees who take refreshment leave are paid an allowance.
Company newsletter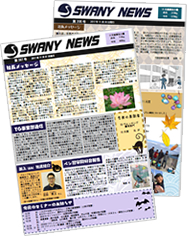 The company newsletter—Swany News—is distributed monthly. In addition to messages from the president, the newsletters also include information about upcoming seminars and unknown aspects of employees' personal lives.
Clubs

We place emphasis on the formation of emotional bonds between employees that transcend divisional and positional boundaries with the aim of bringing our workforce closer together.
Company events

With the aim of encouraging communication between employees we plan a wide range of company events such as cherry blossom viewing parties, new employee welcoming parties, bowling competitions, strawberry picking, barbeques, year-end parties, and "Swany parties".