Using warmth as our motive force
Using warmth as our motive force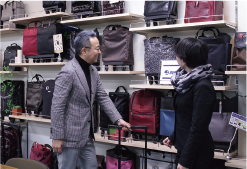 Swany Corporation was founded in the town of Shirotori, in Kagawa, a prefecture that is known for glove production. Gloves are, of course, seasonal products, and there was a time when factory operations were suspended for several months after each year's peak production period. While factory operations were suspended the factory staff also had to be temporarily stood down. In order to solve this issue and provide staff with stable employment throughout the year, from the 1960s we turned our sights overseas and began working on developing overseas markets.
おAs a result of these efforts, we established overseas markets for our products centered on North America and Europe, and over many long years we developed our specialist glove production technologies to the point where they now help underpin the performance of top global athletes. The Swany Bag developed by senior advisor Etsuo Miyoshi and the Swany Mini wheelchair that can be folded down to half the size of conventional wheelchairs, have also been developed into core products.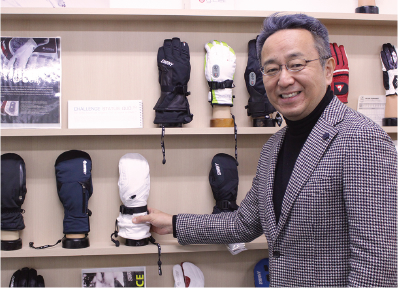 When reflecting on what it is that we at the company are creating, I increasingly feel that we are creating warmth for the world. We receive feedback such as "I managed to complete the race and win a medal thanks to my gloves" and "I no longer find going out such a struggle thanks to my bag", and this has helped convince us that we are providing warmth through our products. I hope that each of our staff members will continue to increase their sensitivity to customers' needs in order to help us become the "world's warmest company".
Tsukasa Itano, President and representative director