Bag Division
A warm product right from its inception.
The Swany Bag came into being in 1964 as a product of necessity after Etsuo Miyoshi (who was a senior managing director at Swany at the time and who is now a senior advisor) began traveling the world to engage in sales activities. Mr. Miyoshi, who had difficulty walking due to the aftereffects of polio, discovered in New York a bag with 70mm diameter wheels which he then used as an aid to make it easier for him to walk, and this experience spurred the idea for the development of the Swany Bag. The idea of creating a small free-standing bag with four wheels and a handle that, when extended, could be used to support some of the user's bodyweight, now aids large numbers of people. We receive comments from customers on a daily basis such as "I can't live without it" and "my Swany Bag has changed my life".
The fact that everyone from the producers, sellers, and customers all say they like Swany Bags is helping to strengthen the Swany brand.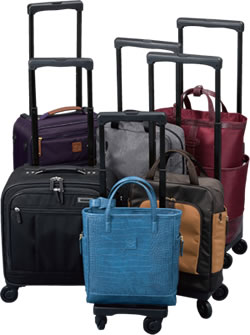 Point01
The original development story

Swany's unique development story resonated with others, and the producers, sellers, and customers were all brought together by a shared feeling of warmth.

Point02
Technological capabilities

The Swany Bag is based on patented design elements and related technologies such as the curved handle, the exchangeable caster wheels, and the bag attachment and detachment method.

Point03
Customer service

We listen carefully to customers not only when responding to requests for repairs but also during free-of-charge diagnosis meetings, and we repeatedly carry out customization based on the feedback we receive.