Employee interviews
Nurtured within our warm company environment, our employees burn with a fighting spirit.
Every day we derive encouragement and motivation from customer feedback.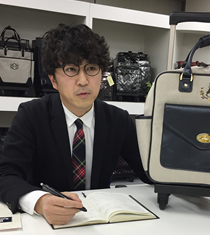 Kazuya Yamashiro
Bag Division
I'm involved in sales work for Swany Bags. Through engaging in sales I sometimes receive words of gratitude directly from customers, which is a powerful reminder that there really are people out there who rely on our bags. This encourages me to strive to help make our role and values as a manufacturer/brand even more certain and surefooted.
The fact that sales personnel are also directly involved in planning is something that I find highly motivating. Conversely, it could be said that it shows that we are blessed with an environment in which a great deal of responsibility is placed on us. Being able to work autonomously and proactively gives me a sense of fulfillment in my work.
Witnessing people using our products with my own eyes is truly satisfying. I know this might sound like an exaggeration, but my dream is to help raise the stature of our products to something akin to societal infrastructure by increasing people's awareness of the products and having people use them as fashionable accessories.
I'm able to focus on my work thanks to the understanding shown toward childbirth and childrearing.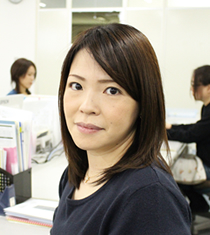 Miki Kawada
Bag Division
I work in sales administration. I spend each day processing orders and responding to inquiries from customers and business partners in a rapid, precise, and polite manner. I believe that the tasks I perform are important in that they help to build up trust in the company. I was worried that my work skills would get rusty if I took maternity leave, but my supervisor said to me "It is because I have a family myself that I am able to focus on my work. We'll be waiting for you, so go ahead and don't worry about it." I still remember how relieved I felt when I heard those words, thanks to which I was able to feel more positive about taking maternity leave. I will be busy balancing childrearing with work for a while yet, but I feel that I can feel peace of mind while working at this company since they place as much importance on family members as they do on staff members. I intend to tackle childrearing and work in as well-regulated a manner as I can so that one day my sons will think of me as a "cool working mother".
The Swany brand has grown in strength overseas—now it's time to work on building it up in Japan as well!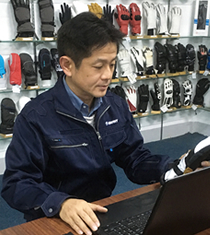 Shin Nakao
Glove Division
I am assigned as a representative to the GL Division's office in the city of Kunshan in Jiangsu Province, China, and I'm responsible for sales work targeting overseas customers as well as managing our factory and our various suppliers in China. The mainstay of our overseas business is planning/retail activities relating to our own Swany brand. We have developed markets in North America, Europe, and Australia and receive high praise for the superior functionality and quality of our ski gloves. Our largest market is the United States, where we have won the distinction of being the top-selling glove brand in specialty stores for seven consecutive years. Although planning different products to suit the differing needs of each market can be arduous work, I'm truly moved when I see people using our products at ski fields and elsewhere.
After a long wait, Swany brand products are now scheduled to go on sale in Japan as well. Building up the Swany brand, which we have reared and nurtured in overseas markets, into a brand that will also be cherished for many long years in the Japanese market also is a new challenge for us to tackle.